This post introduces MMM co-founder Dr. Katie Clary and her entry into death studies as a museum professional. Be on the lookout for more blogs from Dr. Clary and Dr. Biers this summer! 
In 2015 I was on the job market after leaving a position of Executive Director of a Historic House Museum in Tennessee, USA. I found myself at a bit of a loss as I contemplated where my research would take me following the publication of my manuscript on accessibility for people with special needs, the publication of a chapter on accessibility in education in The Manual for Museum Learning, 2nd Edition, and continuing my work towards truly accessible museums. 
Discussions with a close friend helped me figure out a natural progression on this research. I decided to take a new track based on the historiographical work I did in my dissertation on museum history and the use of human bodies and human remains in museums. My previous work focused on living humans, often billed as "freaks", in museums and other exhibitions; now I want to focus on the corporeal remains that we still see in museums today: mummies, bog bodies, medical specimens, skeletons, relics, shrunken heads, and so much more.  What laws (aside from NAGPRA) govern the display and collection of human remains? What are the ethics involved here? How does the public react to these remains? These are just some of the questions I hope to answer as I embark on a new research plan.
For my first foray into death studies, I organized a roundtable at the National Council on Public History meeting in 2018 in Las Vegas, Nevada to present preliminary findings and bring together a fascinating group of women who study these questions. Our presentation, "Death and Display, Bodies and Boundaries" explored our own work and also encourage participation from our audience. I invited my former college roommate, Shelby Judge, a modern funeral director; Laura Anderson Barbata, artist and activist; Dr. Trish Biers, osteoarchaeologist at Cambridge University museums; and Kristen Semento from Winterthur Museum and Gardens. This was my first encounter with now-collaborator and partner in MMM, Trish Biers!
As I planned a trip abroad, I knew I would have the opportunity to visit international museums that are working with these issues. What I didn't know was the amount of opportunities that would present themselves on my trip. My future blogs will detail some of the places I visited and some of the remains I encountered in Ireland and Scotland, as well as the UK, Iceland, and other places.
The first stop on my 2017 trip to Ireland was the Irish Museum of Modern Art. I had just arrived in Ireland, my hotel room was not ready, and my husband and I needed to get out and see the sights while we waited. The only problem was: I don't think I have ever been as exhausted as I was on this museum visit. I was jet-lagged. I was running none hour of plane sleep. It. Was. Awesome.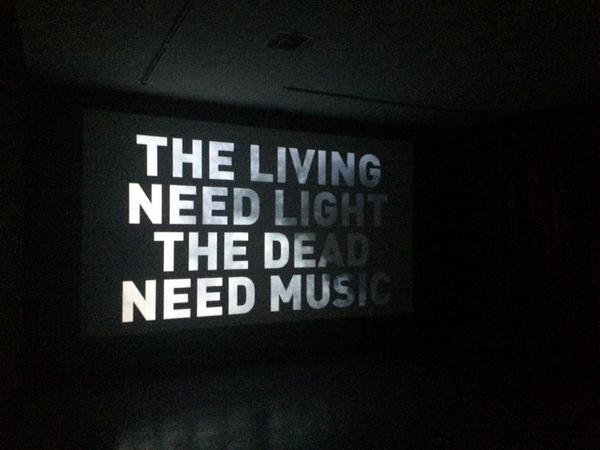 IMMA was in a great historic building, and there were some interesting exhibits while we were there. However, there was one exhibit in particular that spoke to me through my sleepy haze and has stuck with me. It also set the tone for my exploration into death and bodies.
In the back of the museum, in a quiet, dark room with benches (the initial attraction, let's be real), I encountered a film installation. The piece, titled The Living Need Light, The Dead Need Music by The Propeller Group is probably the best video installation I have ever seen.  Their description reads:
The Living Need Light, The Dead Need Musicis a visual and musical journey through the fantastical funeral traditions and rituals of south Vietnam. It attempts to engage in dialogue with funerary traditions that pulsate in the same vein throughout the global south. The film merges documentary footage of actual funeral processions with stunning re-enactments that bring the film into the realm of the abstract, poetic and metaphorical – a rumination on death and the lives that pay homage to it.
I encourage you to watch the video in its entirety if you can. It is so fascinating, beautiful, disturbing, scary, and amazing all at the same time. The fact that I was almost at a hallucinatory stage of tiredness only heightened by appreciation for the piece. However, it stands up even as I re-watch it today.
So that's it! This is how I came to my new program of research, and I'm so excited to have already been welcomed with open arms by so many Death Historians and Death Academics. Thank you, and I can't wait to let you all know more about my research!
Dr. Katie Stringer Clary currently teaches history and public history at Coastal Carolina University in Conway, South Carolina. She is working on several projects currently including a manuscript tentatively titled _What Remains_ about human remains in museums. Since 2007, Dr. Clary has worked with museums in various capacities from docent to executive director.  In her time at museums and as a graduate student in Public History she focused on museum education and inclusion, especially for people with special needs. Through her work, she continues to advocate for accessibility equality in museums and historic sites.  Dr. Clary is also interested in the history of museums, museum administration, digital histories, and community engagement.  In her spare time, she likes to camp and hike, travel, and spend time with her dog Harry Clary and cat Miss Frances.
Follow Katie on Twitter, Instagram, and her personal website: www.katiestringerclary.com